Overview
The Bullfrog Gold Project is located in the prolific Walker Lane Trend approximately 120 miles north-west of Las Vegas, Nevada and 4 miles west of Beatty, Nevada. The Company controls approximately 7,800 acres of mineral rights including the Bullfrog and Montgomery-Shoshone deposits and has further identified significant additional mineralization around the existing pits and defined several exploration targets that could further enhance the Project. Extensive project infrastructure and attributes that allow fast paced development include suitable access roads and pit ramps, powerline and substation on-site and a paved state highway that crosses the property.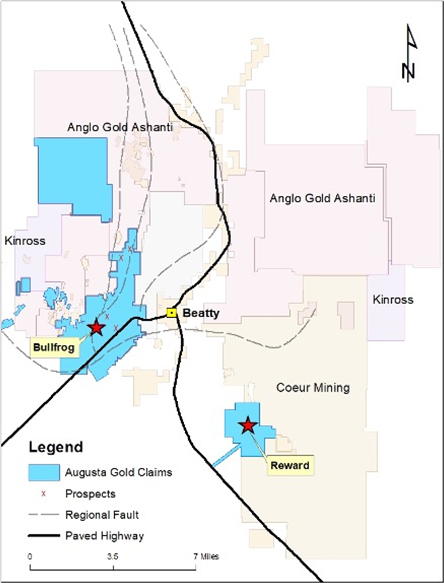 Exploration
With significant exploration opportunities on its land package within this prolific gold district the Company has re-invigorated its exploration program. Key priority targets include:
Montomery-Shoshone
Gap Target
Bullfrog
Bonanza Mountain
Paradise Ridge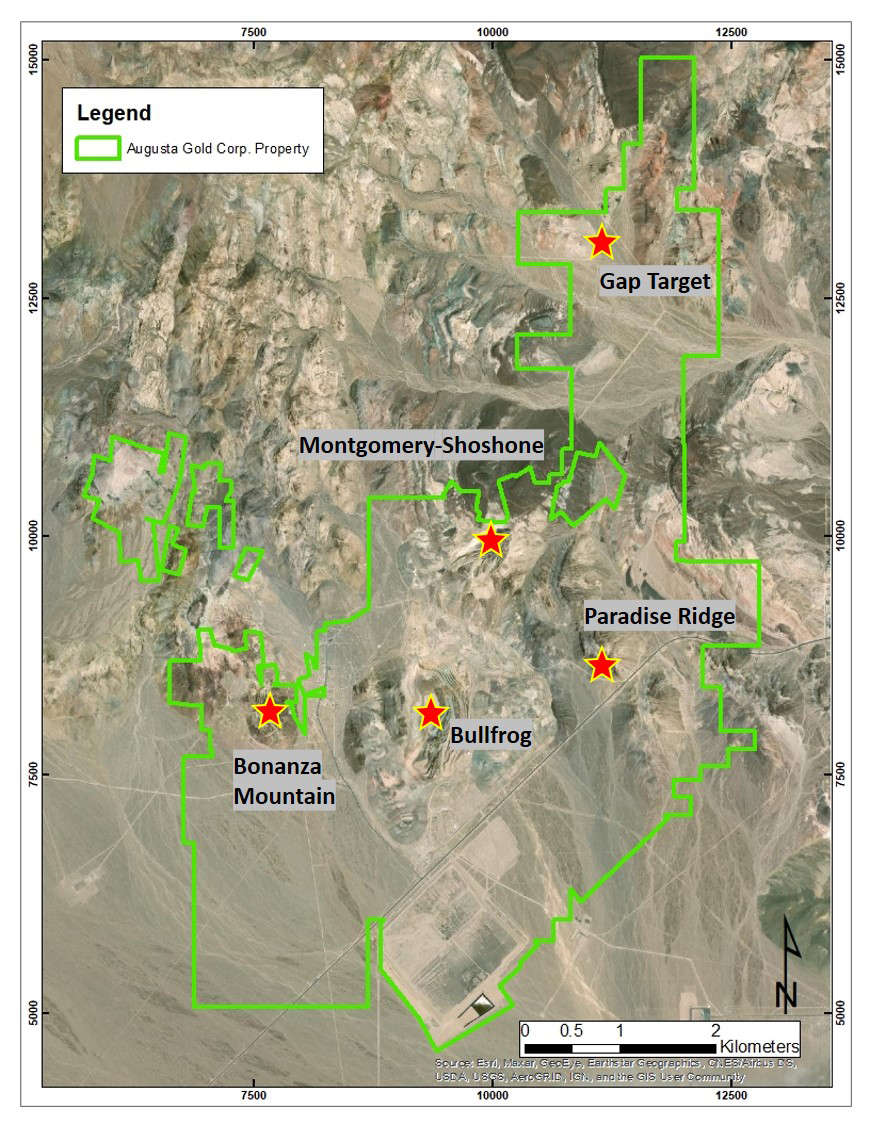 Geology & Mineralization
The Project is located in the southern Walker Lane trend within brittle upper-plate volcanic host rocks that were severely broken from dominant detachment faulting and associated dip-slip and strike-slip displacements. Epithermal solutions permeating the broken host rocks in the M-S and Bullfrog deposits precipitated micron-sized but relatively high-grade gold (Au) within major quartz-calcite veins and disseminated gold in associated stock works. The veins contain very little gangue minerals other than quartz, calcite and manganese oxides, the latter of which contributes to silver (Ag) recoveries that are lower than gold.
The highest grades in the Bullfrog deposit typically correlate with zones of black manganese-rich material, where much of the early manganiferous calcite has been leached out, rendering the vein a rubble zone of quartz, calcite and wad. Veins continue up dip and down dip, but the gold grades and thicknesses diminish rapidly above and below these elevations. The veins and vein breccias associated with the mineralization are generally associated with the MP Fault and its immediate hanging wall. Mineralization also occurs in upper and lower Stockwork zones that are subparallel to the high-grade brecciated vein within the main fault structure.